Main content starts here, tab to start navigating
Private Dining
Slide 1 of 2
Slide 2 of 2
The Oxford Kitchen
We offer many flexible dining and event options that can be easily customized for groups as small as 10 to as large as 100 for sit-down dining and 140 stand-up cocktail & buffet dinner. Pre-fixed priced between $30 to $75 per person
London Eye

London Eye is located within the soft ambiance of our main dining room. An elegant table setting awaits you for your special occasion.
Capacity: Sit Down: 10 to 20
Inquire
Westminster

Discover Westminster- This stylish section within our restaurant is perfect for a cozy sit-down dinner or a lively cocktail party. Nestled in-between our panoramic rolling windows and upscale bar, you can celebrate any occasion in elegance and sophistication.
Capacity: Sit down: 16 | Standing: 25
Inquire
The Market

The Market is our main dining room and our biggest area for a sit-down dinner party. Expect the essence of this London inspired dining room to delight your guests with our British charm and culinary excellence.
Capacity: Sit down: 50 | Standing: 80
Inquire
Hyde Park

Hyde Park is a versatile upstairs dining area. This space is perfect for intimate special occasions or professional corporate events. There is an option to utilize the attached terrace or add on our exclusive bar for an enchanted experience.
Capacity: Sit down: 25 | Standing: 40
Inquire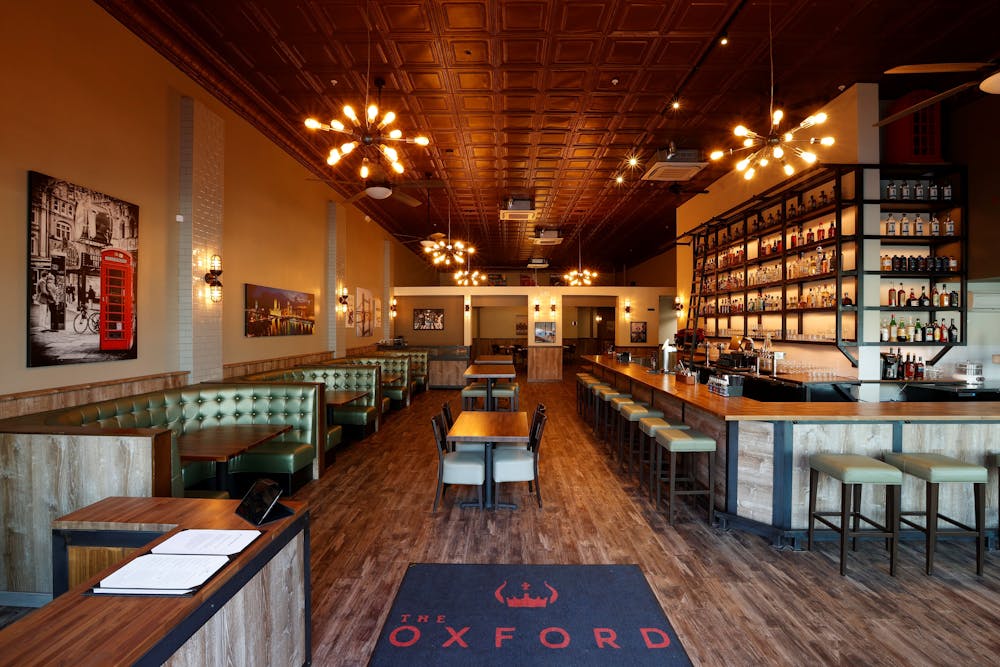 Kensington

Walk into our grandest room "Kensington". This exquisite space boasts a stylish upscale bar where guests can enjoy a wide range of premium cocktails. The room is adorned with rolling panoramic windows, offering the perfect setting for a large lively cocktail party.

Capacity: Sit down: 100 | Standing: 140